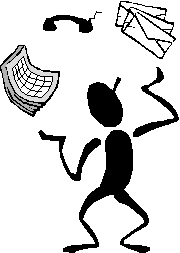 "Long-term planning" could mean what you intend to do in a week's time to what you intend to do with the rest of your life!
Many people fail tests or exams because they start their revision too late rather than because they lack ability. The reason for this seems to arise from the many other pressures put upon you. Lessons, practical work, coursework, homework, friends, family, other responsibilities, etc., etc., all eat away at valuable time.
No wonder revision gets put off to just before a test or exam!
Strange as it may seem, careful planning of what you do and when you do it often uncovers huge amounts of free time you never knew you had! The most important phrase to remember is:
ORGANISE EARLY – REVISE REGULARLY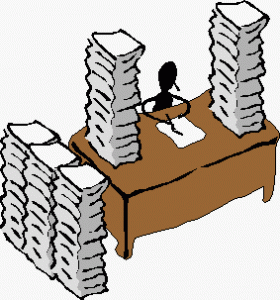 ---
CONSTRUCTING YOUR TIMETABLE
There are 35 – 40 working weeks in a typical school year. Use this as a guide for your rough timetable.
Fill in tasks as they are given.
For example: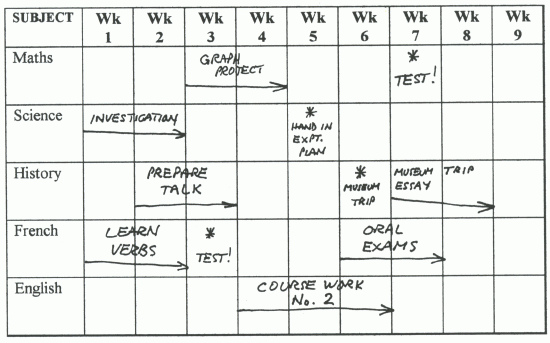 You might include the week a test takes place, the deadline for a project, when vacations are scheduled – it is entirely up to you!
Advantages
At-a-glance timing for every activity.
Busy periods show up clearly.
Lead-in time to deadlines can be shown by a long arrow.
Time limits for tasks can be set and adhered to.
This timetable should then be backed-up with a detailed daily plan which states what you need to do day by day.
DO NOT rely on memory for this!
There will always be something you have forgotten
to take you by surprise at the worst possible time.
…Be Prepared…
---
DAILY TIMETABLING
Plan your activities for each day. Don't forget to include breaks, meals and leisure activities. Be as accurate about time needed as you can.
For the evening, make up a timetable from the time you get home. Divide your time in slots of 15 minutes or so.
For example :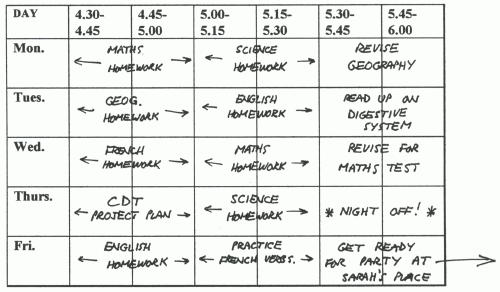 And so on….
Don't forget the weekend! Most of this will be taken up with other things but do try spare some time preparing for the week ahead and/or revision for tests and exams.
Everyone is different.
The timetable must suit YOU and YOUR needs,
NOT what someone else says you must do.
GET SETTLED – LOOK AT THE TASK – DIVIDE YOUR TIME
FIX TARGETS – SET DEADLINES
REWARD YOURSELF!!
and finally
NEVER FORGET WHAT YOUR TIMETABLE IS FOR!