Hi Friends,
Texting is great but what do you think about texting while driving? Do you think that it is dangerous like elder people tell you or do you think that you can handle it just fine?
For me, I initially thought, eh, no big deal, I am in control, plus there is always the urge to respond right away, you know…
UNTIL ONE DAY… a friend texted me while I was driving home from the gym. It was nothing important but I responded to his text, while driving through a big long curve with trees on the sides blocking my view of the road ahead. As I was about to complete the big curve, I saw a lot of cars 50 feet in front of me, all stopped…
They stopped for the red light… but because I was busy on the phone and I didn't see the road well, I wasn't prepared to stop the car at all. I slammed on my brakes and thanks God I was able to stop my car in time.
I felt cold and sweat. On the rest of the way home, I thought hard about my decision in replying to my friend's text. Was it a good idea to risk my life and maybe someone else's life too just to respond to an unimportant text? Plus the financial trouble should be very expensive… texting while driving wasn't worth it at all.
Since then, I have become very careful about my driving and today, I make this page in hope to spread the word about the huge consequences of texting while driving.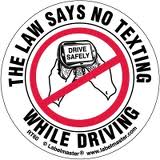 Mobile phones have become very popular and teens texting while driving are on the rise. According to recent government statistic, accidents caused by texting while driving are more than accidents caused by drunk while driving. Some states have started to create laws to make texting while driving illegal.
Texting while driving is very dangerous.
Useful texting while driving links:
Last Update Dec 19 2014: So sorry demonstrative video removed due to some readers reported it to contain violent graphics.