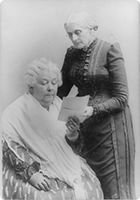 Judging
Source
Credibility
"Is this source credible, Ms. Stanton?"
"I have no idea, Ms. Anthony."
How Can You Judge Source Credibility?
Online…
In print sources…
1. Start in the right place.
It never hurts to start with an online source that you know is reliable. Your school or public library may subscribe to RESEARCH DATABASES. Sometimes you must use the library's computers, but many times you may work from your home or school computer. (The library pays for the database so that you don't have to. ) One research database you might try is Academic Premiere.
1. Check the publisher.
These days, anyone can publish a book him or herself. Some of these books are highly credible, but you have little way of knowing which ones are not! If you stick to the big name publishers, you will be safer. Jot down the name of the publishing company and check it out online or with the librarian. If the book IS self-published, see if you can confirm that the author is an expert, again going online or by asking the librarian.
2. Check the URL address.
The URL is the www.whatever.com line every website has. Safe bets include those that end with .gov (for government), .org (for organization), and .edu (for education). You still have to be cautious though because an org site may have a bias and an edu site may be a home page for a student of that school, not the school itself.
2. See if it is timely.
The Internet has created a whole new way of thinking about copyright dates. If your topic is in the news, a book may be too old to be a good source. Think about what your topic is, then check the copyright date (usually on the back of the title page). Will an older book still be accurate? If so, go for it. If not, keep looking.
3. Look at the "About Me" or "Contact Me" link.
Anybody can make a professional looking website these days. Check out WHO made the site. If a name or company name is given, try to find out more using a search engine like Google. Type in that name. WHO IS THAT PERSON REALLY? If you can't find out, don't use it!
3. Consider source bias.
See if the book tells you something about the author(s) (inside the jacket or on the last page, perhaps). In addition to learning about their education and expertise, you may be able to decide if they have something to gain by having you believe what they write. If they do, you should check to see if the same information is also presented in another source somewhere else.
4. How professional does it look?
Red flags include spelling errors and grammatical errors.
4. Go to "sure things."
Encyclopedias, well-known magazines and newspapers, almanacs, dictionaries, Who's Who books… These are likely to be believable sources. The danger is that they may also be a little boring. You can always find the information in one place, then confirm it's true by checking one of these "sure things."
5. Consider source bias.
Little word, big meaning: Bias is the tendency of the site's authors to WANT to believe what they are saying. One student of mine was researching breast augmentation. She thought it might be linked to cancer until she found a website saying there was absolutely no connection. When she checked the source, she found it was a website for a group of plastic surgeons. Biased? You bet! Even avoid the appearance of bias. If you find correct data, for example, on the NRA site (National Rifle Association), and you are arguing against gun control, your opponents won't trust your facts. Find another source with the same information that has less supposed bias.
6. How current is it?
Find the date of publication or the date of revision. If your topic is constantly changing, you will need a very current source.
---
---